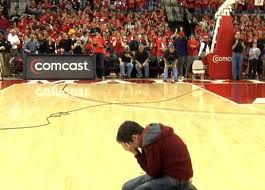 Prank Wars is a series that documents the escalating pranks that are played between CH staffers Streeter Seidell and Amir Blumenfeld. Prank War gained national notoriety after one of the two employees staged a public marriage proposal to the other's girlfriend on his behalf. The incident was known as "The Yankee Prankee" and was later featured on VH1's "40 Greatest Pranks Part 2". Seidell and Blumenfeld have appeared twice on Jimmy Kimmel Live to discuss their pranks.
On Jake and Amir's podcast, If I Were You, Episode 283, Amir and Streeter Seidell admit to all of the prank videos being completely faked. It's all just a sketch.
Streeter announced on Jimmy Kimmel Live that the origin of the show was that Amir was being really annoying (as always) and listening to music on his iTunes and trying to dance along with it so Streeter started prank wars.