Amir Blumenfeld (born, January 18, 1983) is a writer who writes for the comedy website College Humor. Amir appears as an idiotic and extremely annoying version of himself in the shows but in real life he is very normal. He is best known for doing completely random things and some of his hilarious quotes such as Oh Sheesh Y'all, 'Twas a Dream. He is constantly trying to gain the friendship of fellow College Humor writer, Jake Hurwitz, who decides not to accept his friendship and would rather be a more normal person. His lines range from purely nonsensical, or bizarre interpretations of a current event, to surprisingly profound statements that go over people's heads. For this, Amir is somewhat of an outcast among his peers, although he did once get a girlfriend who appeared to have all of the same interests as him, such as eating at McDonald's, though she decided to be Jake's girlfriend, before she got hit by a bus and was killed. He is also a huge fan of McDonald's and is often mentioned to eat extremely unhealthy. Amir is also a great annoyance on his co-workers, his family, and random people on the street. Amir wants to hang out with Jake and often asks him to have dinner with him, though most of the time Jake refuses.
Read more of this article | More featured articles | Vote for a featured article
Featured Episode
Hardly Working: Airplane is an episode of the CollegeHumor show Hardly Working and the second most watched Hardly Working episode with almost 800,000 views on YouTube alone.
Plot

Dan begins to talk to Streeter about a date he went on last night when Streeter lays on the floor and says Airplane. Dan then gets on Streeter so they look like and airplane.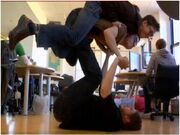 Amir then gets on the plane as a hijack and starts talking in a thick German accent as a German Terrorist. Sarah as an air hostess then tells the captain (Dan) that they are out of Vegetarian Meals. Amir then breaks her neck, and the terrorist starts making threats to Dan such as taking him to Monte Carlo when Streeter announces that they will run out of gas.


Read more of this episode | More featured episodes | Vote for Featured episode
Featured Cleanup
The featured cleanup is a way of getting across some of our worse off articles that need help. Please help expand these articles in any way possible.
Most improved article of the month
The Most improved article of the month is an article that has been added to witha lot of information over tha past month. This will usually change once a month, although if an article has been more improved since then, it may change. The article this month is:
Rapping/Script

Stubs
Articles that need to be improved.
Tissue
Hardly Working
Prank Wars
Streeter Seidell
Rapping

Character Articles in need of attention
These are characters that are in need of attention in their appearances and biography sections.
Jake Hurwitz
Josh Ruben
Jeff Rubin
Sam Reich
Streeter Seidell
Mouse Trap
Studio Audience
Dinner Tonight
Monopoly/Script
Private Eye (Part Two)/References
Episodes that need much more information added to it.
When you complete a task, please remove it from this list.

Loading RSS data...
Community content is available under
CC-BY-SA
unless otherwise noted.